Close to about 15 founders gathered on 1st October at the small and cozy office of AdPushup to participate in a Playbook Roundtable on Content Marketing. This was Ankit's first playbook with iSPIRT and he did a phenomenal job.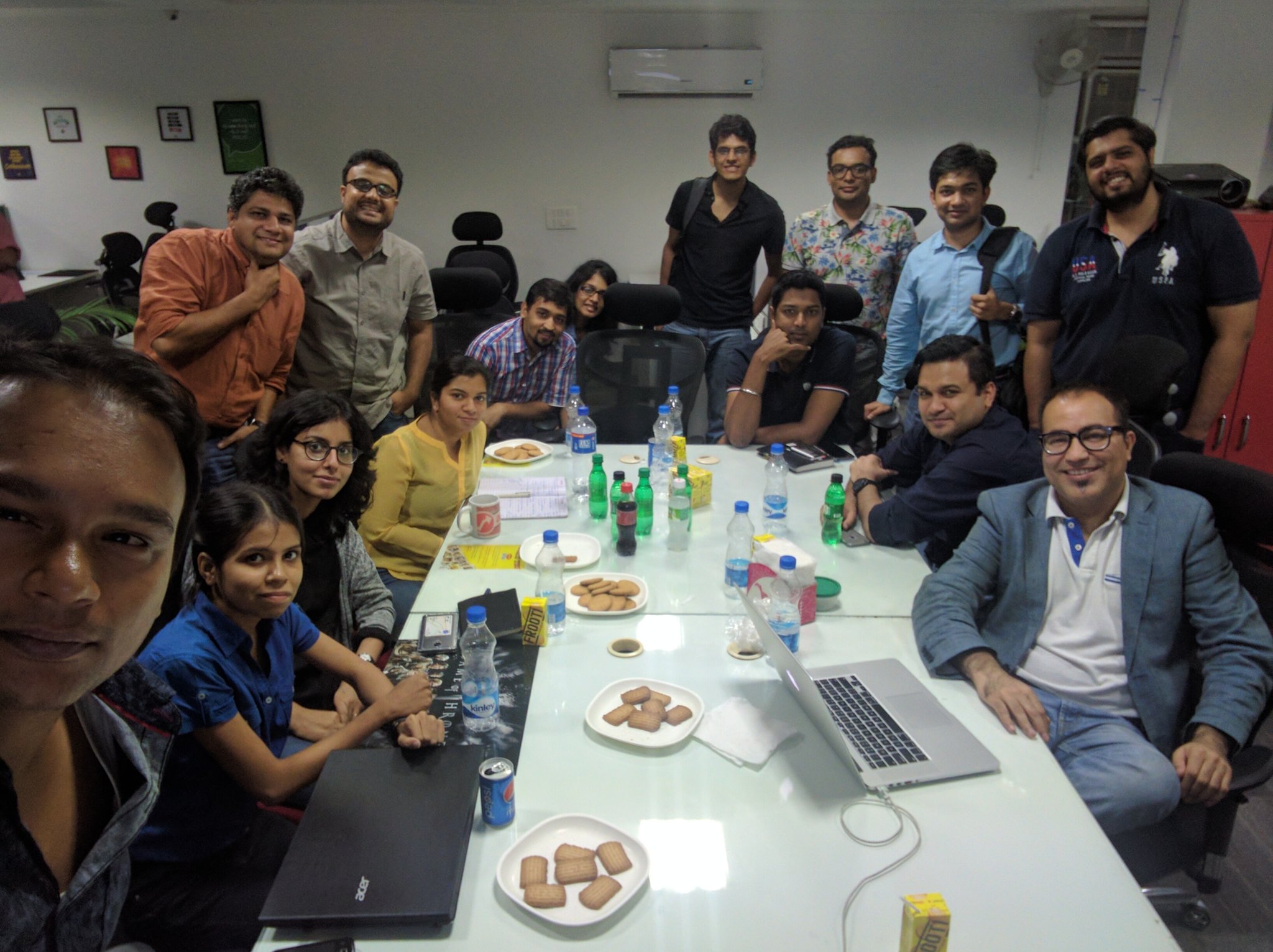 AdPushup is a SaaS company that helps web publishers increase their ad revenue by letting them test and optimize their website's ad layout. Their expertise has been content marketing, and Ankit shared several details of their experience, learning and strategy which have helped AdPushup become a leader in content marketing in the AdTech software space.
Inbound is a Culture
Ankit stressed upon the fact that when starting in inbound practice, founders themselves need to get involved. Inbound is a long term game and requires a lot of patience and perseverance. By getting their hands dirty, founders understand the intricacies involved in inbound and thereby are build the right team and culture.
Buyer Persona
The first step in building your inbound strategy is to put together a buyer persona.  It is basically a description of your ideal customer – someone who will directly benefit from your product or service. Creating content around and for them is what will get you more traffic, engagement and a sustainable growth. You could identify buyer persona by:
Interviewing Prospects
Feedback from your sales team on the leads they're interacting with most
Looking at your Top 10 customers
A typical buyer persona will consist of the following:
Job Role/Title
Job Skills
Performance KPI
Tools used
Goals
Challenges
Personal Demographics (if appropriate)
Recent purchase and the decision tree
Online communities/websites they use to consume content
A buyer persona will help you identify the kind of content and channels you need to focus on in your inbound strategy.
Content Creation
There are two types content that founders can focus based on their industry and product:
Relevant to business or industry ( informative)
Relevant to the Persona (targeted and actionable)
The tone of the content should be educational and non promotional. Create content only keeping in mind – "is this helping someone solve a problem?". At AdPushup, their target audience is long form bloggers and large web publishers. They write content which either informs them or helps in dealing with a painpoint (e.g. blogging tips, how to get more subscribers, how to get more traffic, user psychology, increasing user engagement, among others).
Each content piece should be:
Thorough and meticulously researched
Up-to-date
Well designed
Content should have:
Scannable text – bullet points, sub-headings, short paragraphs, images. Remember bulk of readers do not read but scan the content.
Actionable Insights
Content Frameworks
Citations and sources
Content ideas mostly come from:
Keyword research
What topics your competitors are writing about
Evergreen content (guides, tutorials, how-tos, best-practices)
What the industry experts are tweeting, sharing on social media
Comments on blogs and from relevant communities
Round-up posts
Nail the headline of every post that you publish and you will have won 70% of the battle. If your headline doesn't inspire confidence, interest, excitement or any sort of emotion then readers wont click on it. Then even though your content might be brilliant and relevant, it will just not get the importance it deserves.
Content Distribution
An important rule of thumb to remember is that whoever is the content creator – allocate 50% of time in creating content and the rest 50% in distributing it.
Some of the channels for content distribution include:
Relevant Subreddits
Google+
FB Groups
LinkedIn Groups
Pinterest
Hacker News
Forums
Influencer outreach
Syndicate/Guest Post
Article that will rank on SERP
Refurbish for Infographics, SlideShare, etc
Competitor URL outreach
When you join communities on social networks, regularly engage with their members. This helps when you have to share your content there and not come across as a spammer.
Reddit is infamous for being ruthless with spammers and self promoters. So the only way you come across as neither is by providing all the value right there in the community post and add a small link in the end which says something like – "to read the full post, here's the link" (and provide the exact url, not bitly or any short links). Provide the entire outline right there. Anyone reading it should only click on your post when they know exactly what is in the content and they would still want to read it.
Whoever you mention in our post, product or person, make sure to send them or the relevant team members an email telling them about the mention and encourage them to share it on their social media. Most people do actually share if you ask them. Also, it helps if you are relatively well known and the content is really well written.
Look for guest posting opportunities because they are an effective way to make your presence in the industry. And guest post only on sites that are relevant to your audience, have a very high volume of traffic and well respected (e.g. HubSpot, KISSmetrics)
Generating Leads
Once you have created content and distributed, it is imperative you capture details of the readers. You could devise several ways to do that:
Opt-in Subscription Forms
Banners
Email courses via drip campaigns
HelloBar
Native mentions (with disclosures)
eBooks, reports and whitepapers
Make sure your email marketing is sorted out. Put pop-up email capture boxes (and similar lead capture forms/boxes) in your blog to encourage visitors to convert into subscribers. Once you have a decent number of subscribers (300+) and are pushing content out regularly, start rounding them up and email them to your subscribers in the form of a 'weekly newsletter'.
Here is a screenshot of how AdPushup uses its content to capture user details.

Measurement and Analytics
Finally it is important to measure and analyze your inbound activities. As Ankit puts it, "Inbound is a continuous rinse and repeat process". Few key metrics to track include:
The channels that are giving more traffic
Channels that are converting better
Type of content that gets more organic reach
Statements/Emotions in the headline that perform better (e.g. questions, negative statements, suspense, informative etc)
Reader Demographics
Best time to publish
Best channel to distribute for every topic
Once you have a sufficient success in measuring ROI – cut out what is not working and concentrate only on what is getting results. And always keep creating hypotheses and rigorously testing them. You never know what product or customer insight you might stumble across.
Guest Post by Rajat Harlalka, Bellurbis